Young Living
actually has 2 types of chamomile: Roman and German. Both look similar–adorable little white flowers with a bright yellow center. Both have many similar benefits, such as increasing relaxation, calming the nerves and mind, and tasting yummy in teas. Both are anti-inflammatory. Both are a natural anesthetic. Both naturally grow in Utah. Both help with insomnia and skin conditions. Both from the Asteraceae Botanical Family. But there are some slight differences.
Roman Chamomile:
Naturally grows in France
Anti-spasmodic, anti-parasitic, and antibacterial
Relieves ADHD, anxiety, depression, and restlessness
Helps minimize irritability and stabilize mood
Helps combat nervousness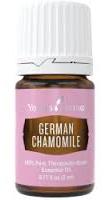 German Chamomile:
Naturally grows in Idaho, Egypt, and Hungary
Powerful antioxidant, anti-tumoral
Promotes digestion, liver, and gallbladder health
Inhibits lipid peroxidation
Used to help treat the liver, arteriosclerosis, nervous tension, arthritis and carpal tunnel
Whether you choose to use Roman Chamomile or German Chamomile, you will not be sorry. Both oils will aid you in bringing an inner zen and peace to your life.
Order directly
online
or send an email.